Edmonton Granite Memorials
Edmonton Granite Memorials has served families in Western Canada for over 60 years.
Please come visit us at our new south Edmonton location, in the Argyll area, south of 63 Ave on 97 Street. It's the largest showroom in Western Canada.
We are a provider of custom granite memorials, commonly known as monuments, headstones, or tombstones, in cemeteries for both municipal and rural communities. We also supply monuments for larger projects, often referred to as cenotaphs, for various organizations choosing to memorialize a specific group whose remains are elsewhere. We have the largest showrooms in Western Canada, making the selection process easier for our customers. Additionally, we perform hundreds of added inscriptions a year to existing monuments that require a date of passing. Our team is also specialized in monument refurbishing and re-highlighting.
Paul and Ashley Crosty are the proud new owners of Edmonton Granite Memorials, after acquiring the company from the second-generation owners in 2021. Paul and Ashley's goal is to continue providing the same quality products that have defined Edmonton Granite Memorials for over 60 years. It is equally important to ensure Edmonton Granite Memorials continues to set the bar in the industry for providing exceptional customer service. This is achieved by employing the largest in-house non-commissioned sales and design teams in our market, which enables the prompt completion of drawings and pricing for our customers. Our customers continue to have the peace of mind that their monument is engraved in-house by industry professionals who have spent their entire lives in the monument industry. Lastly, every monument is installed by Edmonton Granite employees, who guarantee your monument will be level and treated with care.
---
Edmonton Granite Memorials – North Edmonton
780-425-6311
13623 – 149 St. Edmonton
Edmonton Granite Memorials – South Edmonton
825-401-5608
6005 – 97 St. Edmonton
---
Our north Edmonton location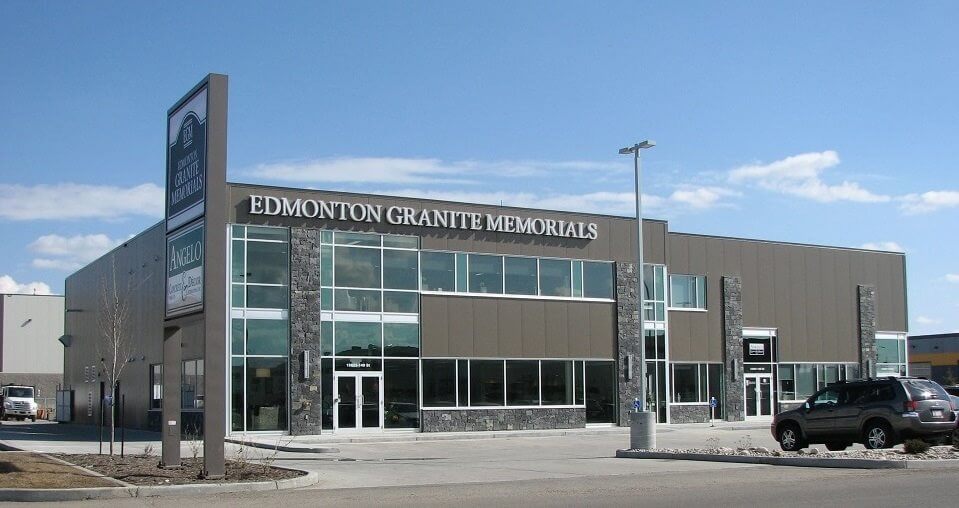 ---
Our new south Edmonton location
---
Edmonton Granite Memorials specializes in granite monuments to be placed in cemeteries. The granite is ordered from our suppliers as per specifications determined upon your consult/meeting with our helpful sales staff. The monument specifications include the type of monument, size, colour, polish, and cut. All engraving is done by sandblasting or laser etching and is completed in-house by our trained professionals to ensure our quality standards are met. We have invested in the latest technology for laser etching and the quality of the images can be viewed in our showroom.
It was a privilege working with the Alexander First Nation, on their monument honouring the Survivors of Residential Schools.
---
---
Upright Monuments
These are commonly known as headstones or tombstones and stand upright on a granite base. Beneath the base is a concrete strip or runner, pre-poured by the cemetery. For cemeteries that do not have a concrete runner, Edmonton Granite Memorials will provide a precast granite foundation, appropriate for the size of the base underneath the monument. Both the front and back of the monument can be engraved or laser etched depending on the polish. Accessories can be added, such as vases, photo plaques, or lanterns. We offer five different levels of polish ranging from front only, leaving natural rough edges, to having all sides of the monument fully polished and smooth.
MORE INFORMATION about our upright monuments.
Flat Markers
Known as grass markers, flats, and/or footstones. These monuments are the most cost effective solution and are often designated to certain areas of the cemetery. They are dug into the ground and sit flush with the grass and in some cases are cast in concrete prior to placement. Only the top surface is polished, and the edges are BRP (balanced rock pitched) or sawn (smooth matte finish). Accessories can be added, such as reversible vases or photo plaques.
MORE INFORMATION about our flat & bronze markers.
Pillow Monuments
Similar to an upright monument they are placed on a base with a foundation underneath. They are higher at the back and slope down to the front and are often 1 foot deep and come in various widths. The slope of the pillow is typically 8/5" or 6/3" from back to front and comes in different polishes, with polish 1 (top only) and polish 3 (top, front, and back) being the most common.
MORE INFORMATION about our pillow monuments.
Children's Memorials
We offer a wide selection of designs and monument shapes catered to Children. We assure you that our memorial consultants will assist with any questions you may have and give you all the time and space you need to decide on a memorial.
MORE INFORMATION about our memorials for children.
Pet Memorials
We have a wide selection of monument designs for your beloved pet. Our dog bone marker is very popular for dog owners, and we can also laser etch a photo of your pet onto the granite. We have options for cats, horses, and birds as well. If you prefer a plaque dedicated to your pet we can accommodate with a variety of sizes, small and large.
MORE INFORMATION about our memorials for pets.
Added Inscription
This is done at the cemetery when a date of passing needs to be added to a pre-need or double monument. A sandblaster with a mobile unit performs the work onsite.
Refurbishing
Often when a monument is very old the text and designs can become difficult to read. We provide refurbishing services to restore the monument as best we can to its original form. This work is often done on-site but in some cases, the monument needs to be removed from the site and brought back to our shop to be worked on.
Re-Highlighting
The engraved portion of the monument often has black or white highlights that can fade over time. We can clean and re-highlight the monument onsite if needed to help improve the appearance of the monument.
---
Edmonton Granite Memorials – North Edmonton
780-425-6311
13623 – 149 St. Edmonton
Edmonton Granite Memorials – South Edmonton
825-401-5608
6005 – 97 St. Edmonton
Frequently Asked Questions
What determines a quality monument?
Our proud history of providing quality monuments and designs is why families continue to choose Edmonton Granite Memorials. People often ask what factors determine the quality of a monument and the answer is colour, cut and, precision engraving.
Colour – Needs to be consistent and free of all defects. Scratches and rub marks are common imperfections that occur in transit.
Cut – Our suppliers ensure the granite is cut to the specification requested. Proper techniques are used to shape the granite, which is often done by hand. Straight lines and symmetry are important visuals in determining the quality of the cut.
Precision Engraving – The engraving of the granite needs to be of the highest quality to ensure all the intricate design details are captured and the text is legible not just at the time of order, but for the lifetime of the monument. The most common technique for engraving a monument is the sandblasting method, which relies on the skillset of the sandblaster. Our sandblasters are some of the very best in the industry.
How long will the monument last?
All our granite is backed by our perpetual warranty, which guarantees replacement of your monument at no cost, should it crack, disintegrate, or lose its colour from exposure to the natural elements. The engraving techniques we use ensure the text and designs on the monument will maintain their integrity for the lifetime of the stone.
What do monuments cost?
This is the most common question we receive, and the answer depends on several variables. We understand that everyone has a budget and we've done our best to accommodate all budgets with our wide selection of monument options.
Several factors that affect price are listed as follows:
The type of monument, size, colour, polish, shape, location, and accessories can all increase or decrease the price depending on your needs. Due to all these variables, we do not post our pricing online. Our memorial consultants are trained to provide beautiful monument options reflective of the budget you are working within.
How long will it take to have my monument installed?
Lead times have been impacted drastically over the past two years due to global supply chain challenges. We have worked closely with our suppliers to always have a healthy stock of products that we can deliver in four to six weeks. We have been successful in achieving this over the past two years. Custom orders have a much longer lead time and can be up to 24 weeks to deliver. Our memorial consultants will work with you to find a solution to meet your needs.
It is our mission to treat every family with dignity and respect and provide a memorial that will be cherished for generations. Please come visit us at our showroom or call us anytime and we will be happy to assist during your time of need.
---
Edmonton Granite Memorials – North Edmonton
780-425-6311
13623 – 149 St. Edmonton
Edmonton Granite Memorials – South Edmonton
825-401-5608
6005 – 97 St. Edmonton
---
Custom Monuments
Cultural Monuments
---
Edmonton Internet Marketing by AndyKuiper.com