Children Memorials
Edmonton Granite Memorials offers several types of children's monuments in a wide range of sizes, shapes, colours, and designs.
Edmonton Granite Memorials has served Western Canada for over 60 years. We are the industry leaders in providing quality granite monuments, backed by exceptional customer service to families when they need it most. The loss of a child is devastating, and we assure you that you will be treated with compassion, dignity, and respect through every step of the memorial process. Our memorial consultants do not work off commission and are available to offer their expertise on our products, and assist you with understanding the cemetery regulations. Our experienced design team will ensure your vision of honouring the life of your child is conveyed on your memorial and will be cherished for generations.
---
Edmonton Granite Memorials – North Edmonton
780-425-6311
13623 – 149 St. Edmonton
Edmonton Granite Memorials – South Edmonton
825-401-5608
6005 – 97 St. Edmonton
---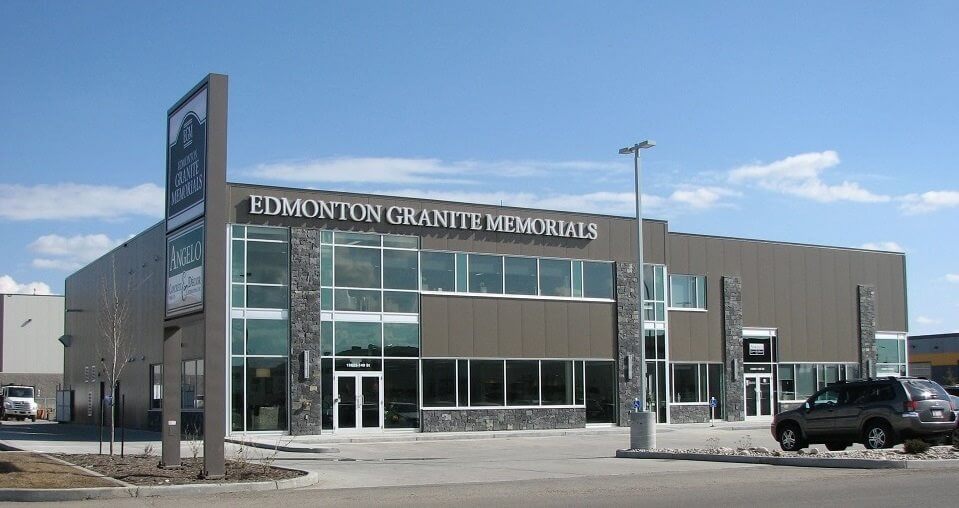 ---
Upright Headstones
This type of monument stands upright from the ground and is mounted to a granite base. A foundation is required underneath the base and is often pre-poured in concrete by the cemetery, or can be provided by us in the form of precast granite. Upright monuments come in a range of sizes that will accommodate your cemetery plot and the respective cemetery regulations.
MORE INFORMATION about our upright monuments.
Pillow Monuments
This type of headstone does not stand as tall as an upright monument, it is sloped from back to front, most commonly eight inches to five inches. Like an upright headstone, they are traditionally mounted to a granite base with a foundation underneath, but in some cemeteries, they can be placed directly on the foundation.
MORE INFORMATION about our pillow monuments.
Flat Markers
This type of monument can be placed as a headstone, footstone, or in multiples on the plot, depending on the cemetery regulations and type of plot. We offer both three-inch and four-inch thicknesses, with a wide range of sizes to choose from. In some cases, flat markers are encased in concrete, or placed on a concrete strip, but more commonly are dug into the ground and placed flush with the grass. This is the most cost-effective memorial option.
MORE INFORMATION about our flat markers.
---
Frequently Asked Questions About Children's Memorials
Can I see some examples of the different types of children's memorials?
We have one of the largest showrooms in Western Canada, featuring a wide range of monument types, colours and sizes to help with the selection process. We encourage all our customers to visit us at our showroom in Edmonton, or you can request a virtual tour if travel is an issue.
What is the process of selecting a monument?
You can schedule an appointment with one of our experienced memorial consultants or walk in anytime to view our monument selection at our showroom. Our consultants will help you with the selection and design of your monument and will provide options from our design library for you to choose from. We can also incorporate custom artwork, text, and photos that can be placed on your monument in several different ways, all of which are featured in our showroom. We will always be respectful of your budget and guide you in the right direction. Before we engrave your monument, we will provide a colour rendering capturing your vision, and will not proceed until you are satisfied. It is our promise to handle your monument with care through every step of our manufacturing process, and at the cemetery during installation. Our customers are welcome to be present at the cemetery during the installation of their monument.
How long will it take to deliver?
If it is in stock, we can deliver in four to six weeks, or sooner if needed, pending cemetery approval. If the monument needs to be ordered, it can take up to 24 weeks to deliver.
---
During the most difficult time in your life, you can trust Edmonton Granite Memorials to help you find the right monument for your child. We will treat you with compassion and kindness throughout the entire process, and offer our guidance and support in capturing the memory of your loved one.
---
Below are some examples of different designs and shapes that we have for children's monuments.
*click an image to enlarge
---

Granite Memorials for Children
Edmonton Granite Memorials – North Edmonton
780-425-6311
13623 – 149 St. Edmonton
Edmonton Granite Memorials – South Edmonton
825-401-5608
6005 – 97 St. Edmonton
---
Author: