Alberta Monuments, Headstones & Memorials
Edmonton Granite Memorials serves all areas of Alberta
At Edmonton Granite Memorials, it has been our privilege to continue providing granite memorials in Alberta for over 60 years. With our longstanding experience building custom monuments, you can feel at ease knowing you are in trusted, capable hands. It is our utmost honour to work with you and provide a memorial to be cherished by your family, loved ones, and generations to come. The strong relationships we have built with our Alberta partners and community gives us the ability to offer you up-to-date information, as well as answer any questions you may have throughout the process.
Granite is always our preferred choice of stone due to its high quality, strength, everlasting durability, and versatility. It allows us to guarantee your monument will stand up to the natural elements and other factors that can occur over time.
---
Edmonton Granite Memorials
780-425-6311
Our Showroom is located at
13623 – 149 St. Edmonton, Alberta
---
Our team at Edmonton Granite consists of the industry's best; they have passed on the knowledge and skills required to consistently deliver the level of excellence that made us the preferred Alberta monument provider we are today. In Edmonton, we have one of the largest indoor monument showrooms in Western Canada, that displays the extensive product options and services we have to offer, including:
*We offer an excellent selection of different colours, shapes, and sizes.
Like many of our customers, this could be your first time going through this process, and that can leave you feeling lost or confused about where to start. Upon visiting our showroom, you will be greeted into a warm, welcoming environment, with a knowledgeable and compassionate Memorial Consultant to guide you through from beginning to end.
---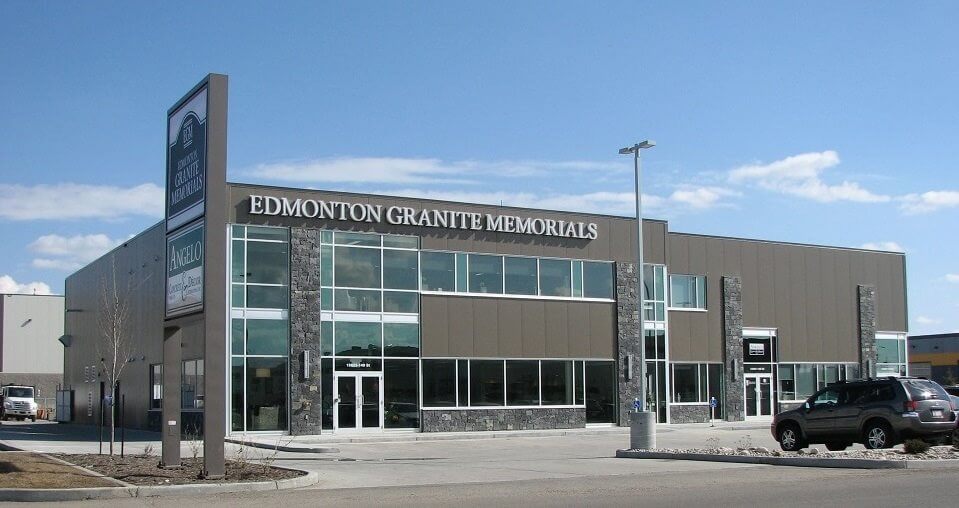 ---
Frequently Asked Questions
What is the first step I need to take when creating a memorial?
We understand that this can be an overwhelming time, and we are here to help. Walk-ins and phone calls are always welcome, and we are ready to answer any questions you may have and will assist you along the way.
Do you have monuments that work for people who have a conservative budget?
We have many options that allow us the flexibility to work with all kinds of budgets that meet our customer's needs.
I would like to add a photo, is this a possibility?
Adding a photo is a request we receive quite often, and there are a couple of choices depending on your vision. Laser etching is one technique used on black granite, or adding porcelain/stainless-steel photo plaques that are affixed to your monument.
---
Edmonton Granite Memorials
780-425-6311
Our Showroom is located at
13623 – 149 St. Edmonton, Alberta
---